Classes
Classes at DESERT ART SUPPLIES are "independent study" based.

All levels of experience are welcome.
I like to connect with the student in advance, and even have them stop into a class to make sure my approach is a good "fit". You bring your own materials, and everyone chooses their own medium, style and subject. We look at everyone's projects and determine what techniques and/or suggestions will make the experience as fun and enlightening as it can be. We may share an exercise in color, composition, brush technique, etc. but your work is your own. I bring in information from all areas that relate, including other creative disciplines, science, history, and the business of art - and keep it light and funny.
LOCATION
Desert Art Supplies - 2750 N. Green Valley Pkwy Henderson 89014.
In the Trader Joe's shopping center
Monday: 1 to 4 (watercolors, acrylics, oils, pastels, etc.)
Tuesday: 9 to 12 and 12:30 to 3:30 (watercolors, acrylics, oils, pastels, etc.)
Thursday: 9 to 12 and 12:30 to 3:30 (watercolors, acrylics, oils, pastels, etc.)

UNLV EDUCATIONAL OUTREACH
Please check UNLV continuing education website for catalog listings.
Paradise Campus 851 E Tropicana Ave, Las Vegas, NV 89119.
Offerings and schedule vary by semester.


Classes include:
Watercolor I, II, and III
Drawing I and II
Acrylics I and II
Introduction to Portrait Drawing
Introduction to Art Appraisal
Level I
classes are aimed at people with little or no experience, and the previously discouraged.
If you have some background, great, but, please, don't let past less than nurturing experiences keep you from your creative side.
Levels II and Level III
are NOT intermediate and advanced. Hard definitions do not apply to your development in art. They reinforce and add to your practice and skills.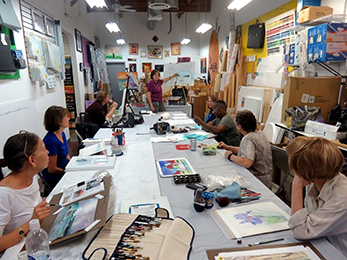 Feel free to contact me if you want to know more.